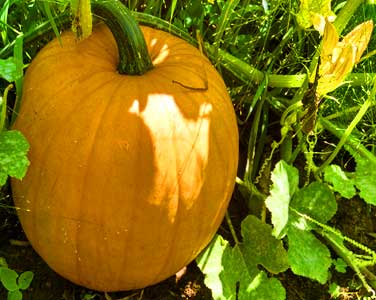 Pick Your Own
The Pumpkin Patch is the latest addition at Z-Orchard. Approximately 1 acre was cleared of Red Pine trees, stumps removed and now became a Pumpkin/ Squash Patch. The patch was not ready for planting until June 5th, which is late for planting pumpkins. The hot weather and abundant rain this summer has been very good for the pumpkins.
The patch will be open to pick your own pumpkins in October. Please come enjoy a short stroll through the pumpkin patch to pick your own pumpkin!

Sign-up to be notified of special sales and events at Z-Orchard, including Pumpkin Picking dates!
"Delicious autumn! My very soul is wedded to it, and if I were a bird I would fly about the earth seeking the successive autumns."
"I'm so glad I live in a world where there are Octobers."
"Autumn is a second spring when every leaf is a flower"
"Autumn…the year's last, loveliest smile"
"… I cannot endure to waste anything so precious as autumnal sunshine by staying in the house. So I have spent almost all the daylight hours in the open air. "
"October's poplars are flaming torches lighting the way to winter"
I would rather sit on a
pumpkin and have it all to myself,

than be crowded on a velvet cushion.

-Henry David Thoreau, Walden; or, Life in the Woods, 1854