I was raised on a farm and have always valued the land and the produce that it produces. So in the Spring of 2009, the Orchard was started with the building of a fence to keep the deer out. I planted 43 full sized trees, with a mix of Haralson, Honey Crisp and Snow Sweet trees. In 2010 a few more trees were added, Prairie Spy, Beacon, Whitney Crab and Connell Reds. In 2011 more Haralson, Honey Crisp and Snow Sweet trees were added to bring the total trees to 96. With a hard winter in 2013-14 and a renegade car taking out some trees, we are now at 85 trees.
My interest in raising fruit pesticide free has been very educational. I will always listen to experienced persons to see if I can pick up some good hints. One person I enjoyed visiting with was George Motz. George told me that he had an orchard for 40 years, never sprayed and never had worms in his apple crop, but always kept geese in the orchard. So I have geese in the orchard. The raising of geese is another adventure of its own, but is working out just fine.
The need for the good pollination lead to getting bees. This story can be found under the Honey Tab on the website.
To have a successful Orchard you must have pollinators. With some encouragement and help from a local artist, Debbie Elmer, Z-Orchard is now in the business of raising bees. This venture has proven to be the most interesting for the Orchard.
The bee yard is officially called an Apiary. Beginning in 2013, with 2 hives, the operation expanded to 6 hives in 2014, to 10 hives in 2015, and 15 hives in 2016. Z-Orchard honey is all sold as raw honey. This means that it is extracted from the hives, strained through filters, but not heated.
This raw honey will crystallize in varied amount of time, depending on the plants they bees collected nectar from. You can use crystallized honey, or liquefy by heating water to 150 degrees, remove from heat and place honey container in water. Do not refrigerate honey.
In 2018 the big changes at Z-Orchard are in the Apiary. My cousin Gary has had a long time interest in bees. 25 years ago he had bees at his Dad's farm, but when the farm was sold so went the bees. Our Grandpa also had bees, which I don't remember, but Gary brought over a migratory cover that was Grandpa's. With this history and intersts we are starting to rear Queen bees. This is a very interesting process and we will offering Queen Bees and 5 frame nuke hives for sale also.
Gary and are starting this process by bulding our own nuke hives for the Queen rearing program. We are starting with 40 deep and 20 medium boxes with bottom boards, feeders and migratory covers. Some of these will be for raising Queens and some for Mating Nukes. We will be sending out information once we have dates we will have Queens available for sale.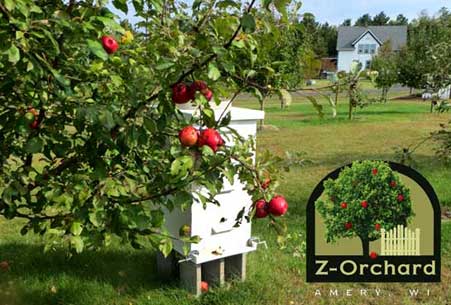 Z-Orchard is located in rural northwestern Wisconsin, just
60 miles east of Minneapolis/St. Paul
in beautiful Amery, Wisconsin, in the heart of the St. Croix River Valley. The facility is a working orchard producing
apples
, fresh
maple syrup
, and local
honey
. The orchard is adjacent to the "Stower Seven Lakes State Trail" – an area abundant in forests and wildlife.
Open seasonally
for harvest
sales
and special events.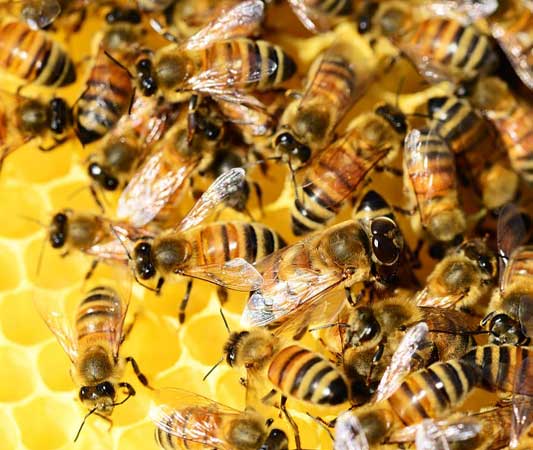 Who are we kidding? We all know is really in charge! By the height of summer it is over ONE MILLION bees, the majority of these are females. They pollinate our apples trees, the maples trees, and pumpkin patch. They also travel a distance of up to 6 miles from Z-Orchard collecting pollen and nectar throughout our community. No worries about visiting, the bees are consumed with their work and are too busy to bother with us! Come see our observation hive where you can get up close and view the bees through glass and learn more about their fascinating and important role in nature and at Z-Orchard.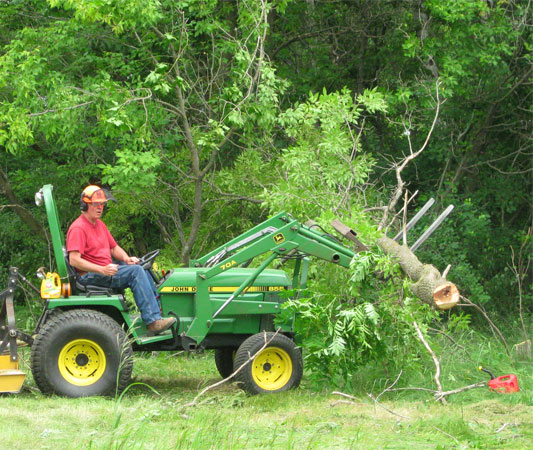 From planting the trees to keeping the grounds, Bill Zager is the man behind the tractor. He enjoys working on the variety of projects that the orchard demands. He also enjoys the opportunity to learn from long-time residents and friends who have a history of farming in the area – they have helped him to establish the orchard and to keep it thriving.
School tours are welcome.  The Amery Schools and some home schoolers have regular field trips in the spring and in the fall.  It is rewarding to teach people where their food comes from!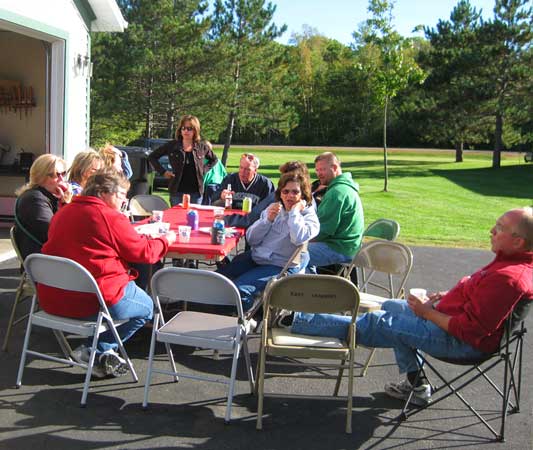 Interest in the growing and harvesting of local food makes Z-Orchard possible. We are pleased to host events that celebrate our local bounty and educate visitors on the processes that make it all happen.  
Contact us today
to discuss how we can work together for your event or harvest needs.